Practical information Les Dunes du Médoc, Soulac-sur-Mer
Address Les Dunes du Médoc
67
boulevard
Marsan de Montbrun

Soulac-sur-Mer
,
33780
Reception:
+33 (0)5 56 73 89 03
GPS coordinates:
Latitude : 45.50114300 / Longitude : -1.13261700
Les Dunes du Médoc, How to get there
Getting there by road
Paris (517 km) - Lyon (665 km) - Toulouse (345 km) - Bordeaux (94 km)

From Paris:
- Take the A10 motorway towards Bordeaux, then take exit No. 35 (Saintes) and take the N150 road towards Royan
- In Royan, take the ferry and cross the Gironde towards Verdon-sur-Mer.
- Once in Verdon-sur-Mer, follow signs for Soulac-Centre
- Once in Soulac, head towards the seafront by taking the Avenue de l'Europe and continue along the seafront then onto Boulevard de l'Amélie and turn left onto Boulevard Marsan de Montbrun

See the timetable for ferry crossings (7.15 am to last departure at 8 pm) +33 (0)5 56 73 37 73

From Bordeaux:
- Take the rocade (bypass), exit 8, Le Verdon/SOULAC
- Continue on the RD1215 to SOULAC
- Follow signs for the town centre, Rue J. Laporte to the roundabout then turn into Rue P. From Larsan
- Follow signs to Naïades beach. The residence 200 m away, on the boulevard opposite (Marsan de Montbrun)
- The residence is at No. 67
Getting there by train
BORDEAUX SAINT JEAN TGV STATION (94 km)
Getting there by plane
BORDEAUX-MERIGNAC AIRPORT (93 km)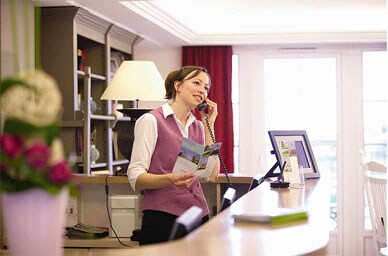 Arrival time
Short stay:
Arrival : 16h00
Departure : 12h00

Weekly stay:
Arrival : 17h00
Departure : 10h00

* Subject to availability, the apartment can be retained until 5 pm - Enquire at reception.
Reception
Monday: 09:00-12:00, 16:00-19:00
Tuesday: 09:00-12:00, 16:00-19:00
Wednesday: 09:00-12:00, 16:00-19:00
Thursday: 09:00-12:00, 16:00-19:00
Friday: 09:00-12:00, 16:00-19:00
Saturday: 09:00-12:00, 14:00-20:00
Sunday: 09:00-12:00, 16:00-19:00
Languages spoken :
English
French