Practical information Cap Morgat, Crozon - Morgat
Address Cap Morgat

rue
de Rulianec

Crozon
,
29160
Reception:
+33 (0)2 98 17 03 03
GPS coordinates:
Latitude : 48.22570000 / Longitude : -4.50439000
Cap Morgat, How to get there
Getting there by road
Paris (590 km) - Bordeaux (605 km) - Toulouse (845 km)

From Paris:
- Take the A6 motorway, then the A10 towards Nantes/Bordeaux
- In St Arnoult-en-Yvelines, take the A11 motorway towards Chartres/Le Mans
- In Le Mans, take the A81 motorway towards Laval-Rennes
- At La Gravelle take the N157 to Rennes

Via the "Nationale":
- At Rennes, head towards St Brieuc and Brest on the N12, then take the N164 to Montauban-de-Bretagne
- Continue to Chateaulin, then take the D887 towards Crozon-Morgat
- In Crozon, turn right at the roundabout
- At the second roundabout, turn left, towards Morgat
- Then continue straight on for 700 m and take a left at the roundabout towards Morgat/Camaret.
-Take the 2nd right at the roundabout (Boulevard de la France Libre), then continue for 1 km and take Rue d'Ys, marked Pierre & Vacances
- Go 100 m and take Rue de Rulianec on the left for 50 m: the entrance to the Residence is on the right
Getting there by train
QUIMPER TGV STATION (75 km)
Getting there by plane
QUIMPER-CORNOUAILLE AIRPORT (65 km)
BREST AIRPORT (60 km)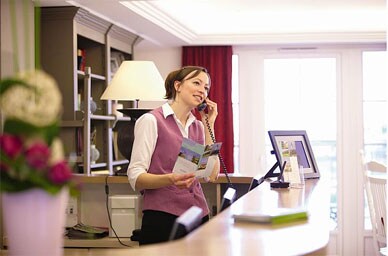 Arrival time
Short stay:
Arrival : 16h00
Departure : 12h00

Weekly stay:
Arrival : 17h00
Departure : 10h00

* Subject to availability, the apartment can be retained until 5 pm - Enquire at reception.
Reception
Monday: 09:00-12:00, 17:00-19:00
Tuesday: 09:00-12:00, 17:00-19:00
Wednesday: Closed
Thursday: 09:00-12:00, 17:00-19:00
Friday: 09:00-12:00, 17:00-19:00
Saturday: 08:00-12:00, 14:00-20:00
Sunday: 09:00-12:00, closed

Please note: Closed on Wednesdays and Sunday afternoons.
Languages spoken :
English
French