Practical information Amandine, Bay of Saint-Tropez
Address Amandine
13
chemin
des Amoureux

Saint-Tropez
,
83990
Reception:
+33 (0)4 94 79 31 00
GPS coordinates:
Latitude : 43.26499900 / Longitude : 6.63510000
Amandine, How to get there
Getting there by road
Paris (907 km) - Lyon (447 km) - Marseille (134 km)

From Paris:
- A6 towards Lyon then A7 towards Marseille. Take the A8 towards Aix-en-Provence/Nice.
- Exit at Le Muy, heading towards St Maxime on the RD25, then take the RN98 to St Tropez or the A8 to Nice, exit at Le Luc. Take the RD558 towards St Tropez then the RN98 to St Tropez.
- When you get to St Tropez follow the signs for "centre-ville" (town centre).
- The Chemin des Amoureux is the third road on the right after the traffic lights (you will see a small square at one side of the junction); head towards the Centre des Impôts (tax office).
- Continue right along the road to the Maeva residences (the last buildings on the right with the large orange gateway).
Getting there by train
SAINT RAPHAËL TGV STATION (37 km)
Getting there by plane
TOULON-HYÈRES AIRPORT (49 km)
NICE-COTE D'AZUR AIRPORT (91 km)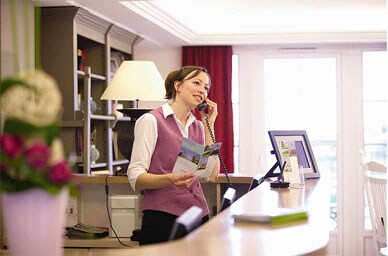 Arrival time
Short stay:
Arrival :
Departure :

Weekly stay:
Arrival : 17h00
Departure : 10h00

Reception
Monday: 09:00-12:00, 17:00-19:00
Tuesday: 09:00-12:00, 17:00-19:00
Wednesday: 09:00-12:00, 17:00-19:00
Thursday: 09:00-12:00, 17:00-19:00
Friday: 09:00-12:00, 17:00-19:00
Saturday: 08:00-12:00, 14:00-20:00
Sunday: 08:00-12:00, 14:00-20:00
Languages spoken :
German
English
French
Italian